Dhaka City Tour:
Dhaka is the capital of Bangladesh with its exciting history and rich culture. Known the world over as the city of Mosques, Muslin, Rickshaw and natural green beauty. It has attracted traveler most from far and near through ages. According to recorded history it was established by Buddhists in 3rd century, later dominated by Hindus, after fell in to the hand of Muslim Mughal rules in the 13th century.
It was the golden age of Dhaka, when it became a great Mughal trading port and finally the capital of Bengal in 1608 by Subedar Islam Khan. Before 1608 Dhaka 's old name Jahangir nagar, It became capital 1610 A.D. In 16 century Dhaka was the 11th largest capital in the world.

The Mughals built Dhaka in to a magnificent city, with a place of sultans, dozens of ornate Mosques, covered markets, gardens and huge citadel to protect it from pirates and foreign power.
Portuguese, Dutch, British, French, Armenian, and Greek all came here to trade during the 17th century. They tussled with one another for the favored of the Mughals. But it was the British who finally triumphed and took Dhaka as their own in 1765. British dominated up to 1947 after then fell in to the hand of Pakistan. We got independence from them in 1971.

Now Dhaka is grown in to a busy city of about ten Million people with an area of about 1353sq.km. It has been developing fast as a modern city. It is the center of industrial, commercial, cultural, educational and political activities for Bangladesh. Motijheel is the main commercial area of the city.



Dhaka is carrying many historical place, such as "Martyr's Monument (Sahidminar), National Memorial, National Parliament Building, Lalbagh Fort, Ahasan Manzil, Dhakeshwary Temple, Sonargao, The Armenian Church, Curzon Hall, Bahadur Shah Park etc.
COX'S BAZAR: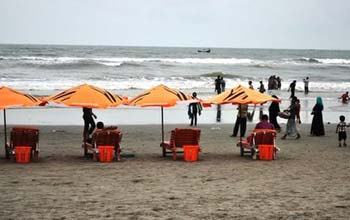 The tourist capital Miles of golden sands, towering cliffs, surfing waves, rare conch shells, colorful pagodas, Buddhist temples and tribes, delightful sea food this is Cox's Bazar, the tourist capital of Bangladesh. Having the world's longest unbroken (120 km) beach sloping gently down to the blue waters of the Bay of Bengal against the picturesque background of a chain of hills covered with deep green forests, Cox's Bazar is one of the most attractive tourist spots in the world. The beach is good for bathing, sun bathing and swimming. The breath taking beauty of the sun setting behind the waves of the sea is captivating. Attractive local variety of cigars and handloom products of the Rakhyne tribal families are good buys. Their unique customs and costumes attract visitors. Located at a distance of 152 km south of Chittagong, Cox's Bazar is connected both by air and road from Dhaka and Chittagong. Visits to the attractive picnic spot at Himchhari, Teknaf, southern most tip of Bangladesh, Buddist temple at Ramu and nearby islands of Sonadia, St. Martin and Moheskhali are memorable experience of a life time. Government has taken initiatives to develop Sonadia as an exclusive beach resort. Elite Tours & Travel is a perfect tour operator, comfortable accommodation, catering, sightseeing and other facilities for the visitor. There is a nine hole golf course also for the guests. Day long attractive sightseeing is organized in Cox's Bazar by Elite Tours & Travel during tourist season.

Ramu and Lamaparah:


Ramu is noted for a beautiful hermitage containing images of Buddha in bronze, silver and gold decorated with precious stones. The beautiful Burmese Bara Khyang at lamapara has the country's largest bronze statue of the Buddha, and it's three wooden buildings house a number of ruins-precious Buddhist images in silver and gold set with stones. The temples lies in a quite palm shaded village about 5km from Ramu.



For bookings contact the Manager (Tours), Masud Tours & Travel Head Office,
email: manager@masudrentacar.com
SUNDARBAN (Mangrove Forest):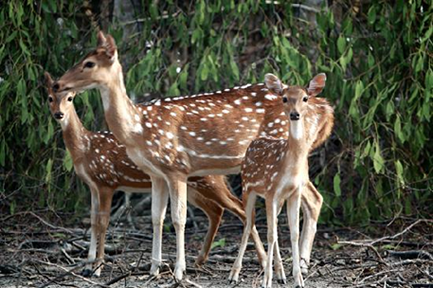 Located near Khulna about 320 Km. west of Dhaka. Here in the south, spread over an area of about 6000 sq. km. of deltaic swamps along the coastal belt of Khulna is the biggest mangrove forest, Sundarban (beautiful forest)- the home of the Royal Bengal Tiger. There are three wildlife sanctuary areas 'Kotka-Kachikhali Tiger point', 'Hironpoint' and 'Manderbaria', number of unexplored natural beaches, innumerable rivers, canals and creeks in the Sundarbans forest, one third of which is water body making the waterways as the only means to enter the forest. Its dense rain forests are criss crossed by a network of rivers and creeks. One finds here tides flowing in two directions in the same creek and often tigers swimming across a river or huge crocodiles basking in the sun. Other wildlife in this region are cheetahs, spotted dears, moneys, pythons, wild bears and hyenas. The forest is accessible by river from Khulna and Mongla. There are rest houses for the visitors to stay and enjoy the unspoiled nature with all its charm and majesty. Spending some times inside the forest can be a rara treat for the lovers of nature. Guided Tours in Sundarban Elite Tours & Travel arranges guided package tours for groups of 4 to 8 and above from Dhaka to Sundarban.
For details please contact: Manager (Tours), Masud Tours & Travel Head Office, email: manager@masudrentacar.com
Kuakata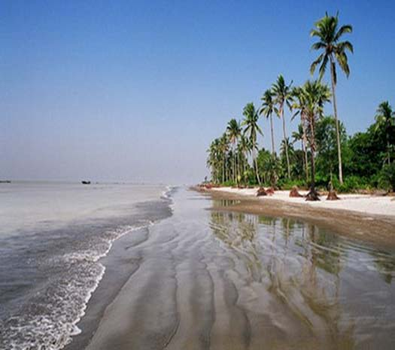 facing south of Bangladesh is 70 km from Patuakhali District Headquarters and 320 km from the capital city of Dhaka. Here on the Bay, nature left to nature is the up coming tourist hamlet of Kuakata with cool and kind holidaying kiss. Fascinating name Kua (well), Kata (dug) was perhaps given to it by the earliest Rakhyen settlers from Kingdom of Arakan who land marked the place by digging a well. Fabled curative qualities of well-waters of Kuakata are still a matter of "willing suspension of disbelief." Fascinating still more is the sight of the sun at down rising from the depths of the sea and sinking into the same at dusk, seen standing at the same point.

Major Attractions are:
The long wide beach in typical natural setting
Rising from the sun and setting into it of the crimson sun in a calm environment
Fairs and festivals during 'Rush Purnima' and Maghi Purnima.
Unique custom and costumes of the Rakhyen community
Ancient Buddhist temple & the largest Buddha statue of Bangladesh
Migratory birds in winter season For details please contact: Manager (Tours), Masud Tours & Travel Head Office, email: manager@masudrentacar.com
Rangamati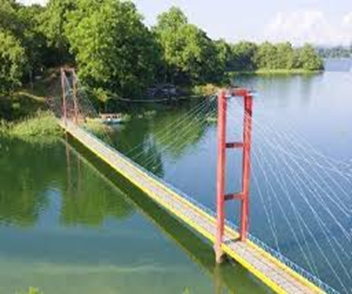 Located Distance from Chittagong is 77 Kilometer and communications are Bus, Jeep and Microbus. Rangamati District is under Chittagong division with an area of 6116.13 sq km, the headquarters of Rangamati Hill District which is a wonderful repository of scenic splendours with flora and fauna of varied descriptions. The township is located on the western bank of the Kaptai lake. Rangamati is a favourite holiday resort because of its beautiful landscape, scenic beauty, lake, colourful tribes (Chakma, Marma etc.) its flora and fauna, tribal museum, hanging bridge, homespun textile products, ivory jewellery and the tribal men and women who fashion them. For tourists the attractions of Rangamati are numerous, tribal life, fishing, speed boat cruising, water skiing, hiking, bathing or merely enjoying nature as it is. Bangladesh Parjatan Corporation provides suitable hotel and cottage accommodation, catering, speed boat and other facilities at Rangamati. Day long attractive sightseeing is organized in Cox'sbazar by TRAVEL BANGLADESH (TRAVELBD) during tourist season.For details please contact: Manager (Tours), Masud Tours & Travel Head Office, email: manager@masudrentacar.com